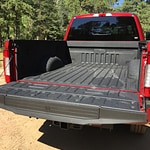 We here at Vision Ford Lincoln are ecstatic to deliver you the very popular and highly-anticipated 2020 Ford Super Duty. This monster of a truck truly exceeds all expectations of toughness and durability. The 2020 Ford Super Duty flourishes when tasked with rigorous demands and grueling conditions.
Super Duty is the first and only pickup truck in its class equipped with an aluminum-alloy body of military-grade strength and a frame built with more than 95 percent steel. Aluminum alloy is much lighter than the previous steel body, while still maintaining its remarkable strength. The fully boxed frame is 24 times more stiff than the previous model and is designed to minimize any flexing and twisting while remaining viciously strong; earning the highest payload and tow ratings in its class.
The 2020 Ford Super Duty has been subjected to 20 million miles of testing in real conditions as well as simulations, involving temperatures ranging from -20 to 120 degrees Fahrenheit.