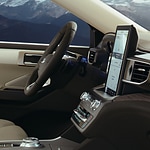 It's easy to see why Ford Explorer is a top seller among three-row SUVs. It seats up to seven comfortably, has great fuel efficiency, power and handling. Speaking of power and handling, here are two performance features about Ford Explorer that our Vision Ford Lincoln team members are really excited about.
Manage Terrain Like a Master
Explorer's large digital instrument cluster showcases 3D animated graphics to assist you on any terrain and in many different driving scenarios.
Read More